Individuals and companies setup works available with J S INFOTECH.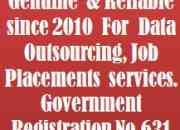 Data of ad
Published
15 of August

/ 11:10hs
Details of ads
J S INFO TECH is proud to provide valuable services since 2010.Providing data entry outsourcing solutions to different customers (individuals, organizations, and companies).


PROJECTS

Weekly /Monthly Payout: You can earn Rs 9000 - 25000 in month from computer TYPING & COPY works.
Works: 50 Rs/Page, 8 Rs/Form Filling, Web Based Form Filling.

Works: 10 Rs / Form Filling, 3 Rs per Ad post.



COMPANY SETUP PROJECTS


XML PROJECTS:
Night shift or Day shifts
? 10-25 seats above only.
? Earn from RS 15000 to Rs 20000/- day on each seat. Depends on employee capability.
? 24*7 support from us.
? With low investment.
? Agreement starting for 11 months. And extent up-to 3 years depend on performance.

INBOUND/OUTBOUND PROJECTS: some inbound and outbound works available. Call and take full details.

JOB PLACEMENT SERVICES
Our services started in 2009 By Company Name ?J S CONSULTANCY?. We are doing our best to support to get jobs for candidates who are approaching. Candidates without experience or with experience. May be candidates in IT or Non IT Fields.
Present jobs available with Us:
IT: Java, .Net, Oracle. Etc.
Non IT: Market Executives, Administration, and
B PO.