Sukeshant Hair Oil/ Natural Hair Oil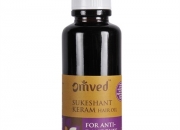 Data of ad
Published
21 of November

/ 10:34hs
Details of ads
Botanical extracts of the the Sukeshant Keram Anti-dandruff Hair Oil maintain and promote the health of the hair and scalp by providing anti-fungal and anti-dandruff actions. Infused in a base of virgin Coconut oil, rich in minerals, proteins, carbohydrates and glycerides, this oil:
* Works as a hair tonic for a healthy scalp
* Fights dandruff, dry flakes and hair fall
* Soothes itching and nourishes roots.

http://omvedstore.in/products/1695-sukeshant-hair-oil.aspx

For More Details: +91- 080-23622220/ +91 8879718104

Email us: omvedstore@gmail.com

Address: A Venture of Auraziawellness Pvt Ltd, # 235,'F' Block, HTP Road, Sahakarnagar, Bangalore - 560 092 .