Organic bamboo Yogi Monster towel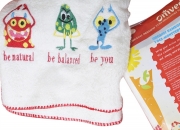 Data of ad
Published
24 of November

/ 14:58hs
Details of ads
Wrap your little one in this cashmere-soft, comfortable and simply adorable bamboo towel. The purity of the certified organic cotton, blended with the naturally soft luxury of bamboo ensures that your child is wrapped in the goodness of nature, safe from any harsh chemicals or pesticides. Omved store presents a variety of 100% pure and natural lifestyle products to choose from. Start living the organic lifestyle by clicking here:
http://omvedstore.in/products/1782-organic-bamboo-yogi-monster-towel.aspx

For More Details: +91-22-28203154/ +91 8879718104 080-23622220

Email us: omvedstore@gmail.com

Address: A Venture of Auraziawellness Pvt Ltd, # 235,'F' Block, HTP Road, Sahakarnagar, Bangalore - 560 092 .