Buckwheat Balance Cushion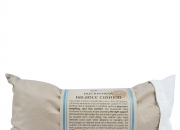 Data of ad
Published
24 of November

/ 15:05hs
Details of ads
Buckwheat hull filling cushions have been used since millenia due to their ability to conform to the body shape, thus providing the right support to the body. This classic cushion can be used in multiple ways: As a sleep support, it helps alleviate back pain while sleeping or lounging and encourages an aligned body and restorative sleep. As a sitting support, it helps realign the neck which gets pushed too far forward from chair sitting. Buy organic products at Omvedstore.
http://omvedstore.in/products/1833-buckwheat-balance-cushion.aspx

For More Details: +91-22-28203154/ +91 8879718104 080-23622220

Email us: omvedstore@gmail.com

Address: A Venture of Auraziawellness Pvt Ltd, # 235,'F' Block, HTP Road, Sahakarnagar, Bangalore - 560 092 .