Interactive Voice Response (IVR) System Software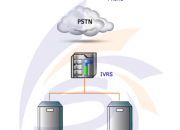 Data of ad
Published
21 of March

/ 13:46hs
Advertiser:
Pramod, Gupta
Details of ads
IVRS Solution Overview
IVR solutions can be used to control almost any function where the interface can be broken down into a series of simple questions. IVR solutions are typically used to service high call volumes, reduce cost and improve the customer experience. Examples of typical IVR applications are telephone banking,credit card services etc.. Companies also use IVR services to extend their business hours to 24x7.
SIPL has been providing computer technology products and services since 1995 and has a well experienced staff of IVR professionals who have created IVR solutions for many groups and industries. SIPL also offers a complete IVR design and development software solution for the creation of automatic phone answering applications. Whether your application is simple or complex, we can develop your phone campaign swiftly and have your application in production within a short span of time.