Web Designing Bangalore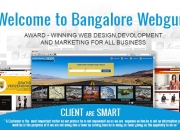 Data of ad
Published
04 of April

/ 09:30hs
Details of ads
Web Development Company

Bangalore Web Guru is a planetary web design company. We provides higher-end web and internet marketing solutions for online business across the world. For More Information visit our Official Website http://www.bangalorewebguru.in/

Why Bangalore Web Guru?

Quick Response and Support
Affordable Cost with Quality and on-time Delivery.
120+ Highly Skilled Engineers
Daily Project Status on Daily basis.
Provides Complete Source code and Database.
Only Unique Designs, No Default Themes/Templates.
NO Hidden Cost & Surprise Invoices.
Proper Testing Reports and its Feedback.

Take Portfolio tour here: http://www.bangalorewebguru.in/portfolio.html

Services Offered By Bangalore Web Guru:

Web Design and Development Services
Graphic and Banner/Logo Designing
Website Maintenance Services
Website Redesign Services
Complete E Commerce Store Setup and Management
Digital Campaigns & Search Engine Marketing
Integrated SEO & Digital Marketing Services
Online Reputation Management

Skype: zinavotechnologies
IND: +91 80 4164 4089
UK: +44-203-289-8924
Mail: sales@zinavo.com

Bangalore Web Guru, developing websites by understanding your business to meet immediate and future needs of organizations across the global. Using latest versions of PHP, MySQL, HTML, CSS, AJAX, JQuery, JS, Flash Banners, CMS like Joomla, WordPress, Magento, Plug ins, Shopping Cart, Payment Integration, Framework, Template Customization, Module Integration, Theme Designing, Infographics and etc.,

Our Valuable Clients:

SHARP, MYFAIR,JTPlaza, Kult Wear, 1 PS, PhaseQ, UK Baggit, RAKHI'S Fashion, TshirtLoot, ebagi, ADVGULF, PLAYBOY za, Storythread, Counfreedise, Bharathi super market, orbital shops, etc,.