Job Oriented Automation Training Course Only at ITeLearn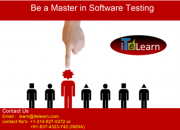 Data of ad
Published
08 of April

/ 13:17hs
Details of ads
In current scenario, there is huge demand for the testing professionals that too for automation testers. Automated Testing software Automated Testing provides fast turn out without sacrificing the quality. But learning testing right will make you stand out of this competition. Having certified in automated testing will shine your career by getting your dream job on hands.
ITeLearn is a proven online training platform, offering the best automation training with high quality video tutorials which easily turn you as a professional automation tester. If you want to look yourself settled in your career as a sound automation testing professional, ITeLearn is your right source.

For more details:
URL:http://www.automationtestingcourse.com/automation-testing-online-training.php
Contact: +1-314-827-5272
Email: learn@itelearn.com
Varkasa Inc.
18118 Parthenia Street,
Northridge, CA 91325.