India's No.1 Animation & Visual effect training centre.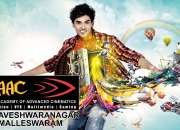 Data of ad
Published
17 of August

/ 12:28hs
Details of ads
3D ANIMATION & VISUAL EFFECT - The Next Generation Animation Course
Admissions Open for 2015 Batch. Hurry up!!

The rapid advancement of technology has made computer animation available to the masses and the animation industry is one of the fastest growing industries.

The demand for animated entertainment has expanded with the increase in broadcasting hours by cable and satellite TV along with the growing popularity of the Internet.

Movie animators? Modelling and texturing? 3Ds Max? 3D Maya?
Visual effects? If these words excite you or interest you
and you want to learn them, then look no further as we are
one of the best animation institutes in India which offers a
wide range of career-oriented courses in 3D Animation, VFX,
Multimedia, Graphic & Web Designing, Gaming, & more.
Work with software like Adobe Photoshop™, Adobe After
Effects™, Adobe Premiere™, Autodesk 3ds


Our wide experience and knowledge of the animation industry
as a leading 3D animation.
Institute gives us the edge when it comes to offering
specialized training.

If your dream career lies in the field of animation or
gaming then get in touch with us or drop in to have a
session with our counsellor.

For more details please contact us,

Thanks & Regards,

MAAC,
080-41723377
Basaveshwarnagar,
Bangalore.