Certified Attractive Ruby (Manik) Stone At Low Price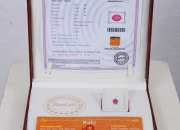 Data of ad
Published
20 of August

/ 13:50hs
Details of ads
Certified original Ruby or Manik gemstone is available online from Ceylon mines at attractive prices. Ruby is mainly used in necklaces, rings and pendants. Buy Beautiful Ruby or Manik gemstone from our online shop at low price. For more info call at +91 9216113377 or email at info@ruby.org.in

Our Commitments To All Our Customers:
? Free Shipping for all over India.
? We Offer 15 Day Return Policy.
? Lab Certified gemstones
? All our gemstones are natural.
? No image editing: What you see is exactly what you get!