Kurakulas Business Solutions Pvt Ltd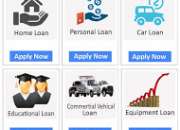 Data of ad
Published
25 of September

/ 15:08hs
Details of ads
About Business Loan


India is one of the world's fastest growing economies as it voyage on the trail of economic improvement. With opportunities comes challenges and India has come through a long way overcoming these challenges. Indian economy is such those nurture the business to grow.
Numerous hurdles are there that need to be overcome in business right from financing to selling or marketing. Among them, it is often seems that the lack of finance is the major reason of down falling of our small businesses.
For any business to function smoothly, it's always good to avoid high capital expenditure and focus more on its functioning.

Eligibility

?Limited or Private Limited Company
?Partnership or Proprietorship Firm
?Chartered Accountant / Self Employed Professional
?Individual Practicing Doctor
?Consulting Doctor
?Salaried Doctor

Customer Profile

?Self Employed Professionals (SEP)
?Self Employed Non Professionals (SENP)
?Partnerships
?Limited Liability Partnership
?Private Limited and
?Closely held Limited companies
?

Required Documents

?KYC
›Photos All Directors
›All Directors ID & Address Proof
›MOA, AOA, Company PAN Card
›Share Holders & Directors List, Form 20B with Annual Returns
›VAT Registration Copy
›Office & Residence Telephone Bills
›Own Property Proof
›Relationship Proof


?INCOME
›Latest 2 years ITRs
?Saral copy
?Computation of Income
?Directors Report, Audit Report, Notes, Annexure To Audit Report
?P&L, Balance Sheet and Schedules
?3CA & 3CD
?Annexure
›Latest 2 years Personal ITRs (if possible all partners)

?
BANKING
›Latest 6months Bank Statement
?LOAN SANCTION LETTERS
›All loans Sanction Letters and loan track
?OTHER DOCUMENTS
›Jan 2014 to till date VAT Returns
?

Features And benifits

?Loans up to 30 Lacs
›We offer loans up to 30 Lacs as Business Loan which can also be availed online. This is the highest unsecured ticket size offered by any online loan provider in India.
?Instant Online Approval
›Our online unsecured Business Loan provides an instant online approval with a 100% online process, application to approval.
?No Guarantors. No Collateral
›You don't need to provide any Guarantors or give any collateral to avail our Business Loans, even when you apply online.
?Preapproved Offers
›As an existing customer, you will receive pre-approved loan offers from time to time.
?Online Account Access
›View all your loan account details and avail of exclusive offers on our Customer Portal. Log in with your User ID/ Mobile Number/Email and Password.