Premium Office Space in Central Bangalore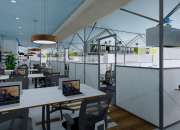 Data of ad
Published
25 of February

/ 11:19hs
Details of ads
Premium plug and play office space in Central Bangalore Suitable for teams of any size furnished office space with open desks cabins, meeting rooms, Cafeteria, high speed internet, housekeeping, power backup, security and parking included.

Call today for an early bird discount at our Residency Road Bangalore center. Prices start at Rs. 12,000 per seat/month.


BHIVE Workspace is the largest co-working space in Bangalore, designed to drive productivity, well-being, collaboration, knowledge sharing and creativity . We have been trusted by around 200 companies with over 1000 members, who are a part of the thriving BHIVE Community. In addition to best-in-class hospitality, productive work environment, and vibrant community, we have helped our members save over 30% in costs compared to traditional office solutions.

We help our members focus on what they do best by taking care of everything else. They no longer need to worry about facility management, housekeeping and other office logistics. According to various studies, this consumes 15%-20% of time in an owned space, not accounting for situations when there are water, power or facility staff disruptions. We were ranked #1 co-working space globally by Koworks, #1 by Next Big What and #2 by Entrepreneur India.

Some of our key differentiators include:

BuzzNet: Fast and reliable workspace internet – 99.9% uptime; 4 mbps speed per user. This has been achieved with over a year of research and establishing state-of-the-art processes that are unique to BHIVE Workspace. We have a dedicated R&D team that strives to deliver a seamless internet experience without disruptions.

Access anytime, anywhere: All BHIVE Workspaces are open 24X7. You have the flexibility of working from any BHIVE location. We currently have 7 locations operational in Central Bangalore (Residency Road), HSR Sector 6 and 4, Koramangala, Indirinagar and have plans to open new BHIVE Workspace locations in Whitefield and CBD area. In addition, we will be opening new BHIVE Workspace locations in Delhi, Mumbai, Pune, Chennai, Hyderabad and Chennai in the coming months.

Vibrant and green workspaces: Recreational area, Breakout zones and Zen Gardens. Unlimited tea and coffee. We are targeting to have over 2000 plants across our locations within next 3 months.

Welcoming hospitality: Dedicated community managers, security and housekeeping staff. Our entire staff goes through extensive training to ensure they care deeply about our members' experience and to help them achieve highest levels of productivity. We believe we are in hospitality industry rather than office space. Hence, we pay a lot of attention to the hospitality aspect of our business.

Community access: Access to larger BHIVE community through mobile app, events and social areas. We are the only co-working space to connect our community through Workplace by Facebook.

Thought leadership: Learn from top thought leaders from the industry. In the last 1.5 years, we've hosted over 500 events, that have been graced by top thought leaders from the industry, including Kris Gopalakrishnan (co-founder at Infosys), Alok Goel (MD at Saif Partners and former entrepreneurs), Karl Alomar (co-founder at DigitalOcean), Radha K (Director at Unitus Seed Fund), Archit Gupta (CEO of Cleartax), Anshuman Bapna (CPO at MakeMyTrip and former Entrepreneur)
Value added services: We have partnered with over 50 companies to offer a combined value of over Rs. 2 Lakh per year to every member for free. BHIVE Workpace partners include incubators, angel investors, legal services, financial services, banks, digital marketing, advertising, HR services, Ride sharing, food delivery etc.
The ever-so spirited community at BHIVE

BHIVE is the congregation of professionals hailing from different backgrounds. One can easily learn the benefits of Coworking and incorporate the salient features into their respective enterprises. The social interaction paves the way for friendships which last for lifetime.

Write to us to get a free quote or a free tour of our office spaces.