20000 Sq. Ft Warehouse / Godown for rent in KR Puram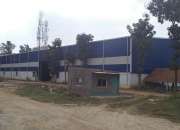 Data of ad
Published
21 of June

/ 10:01hs
Details of ads
FEATURES
•Clear Height: 20'
•Floor Area: 20,000 Sq. Ft
•Flooring: VDF with Steel and M20 Concrete.
•Floor Load: ~ 5 Tons/sqm
•Type of Structure: PEB Steel Structure
•Docking: 1.2m above ground level, set back on docking side with canopy.
•Sky Lighting: 5% of roof area.

ADVANTAGE
•Security room.
•Close proximity to Central Bangalore, International airport, Cargo Road, Outer Ring Road, National Highways (NH-4, NH-7), Old Madras Road and Inland Container Depot(ICD).
•Toilets.

SUITABLE FOR
•E-Commerce Warehouse and Distribution Center.
•FMCG Warehouse and Distribution Center.
•Logistics Warehouse.
•Furniture Warehouse.
•Warehousing for any company which needs storage space close to the city.