Dell PowerEdge R220 Rack Server for Rental & Sale Bangalore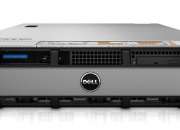 Data of ad
Published
19 of April

/ 07:26hs
Details of ads
Dell PowerEdge R220 Rack Server for Rental & Sale Bangalore. Whether it's your first server or your latest refresh, the space-saving PowerEdge R220 is ideal for a variety of workloads and for organizations of all sizes.

Configuration Basic
Form Factor 1U Rack Server
Processor Intel Xeon E3-1220 V3*01. 3.1Ghz, 8M cache, 4C/4T, turbo (80W)
RAM 08 GB DDR3 ECC Ram
HDD 300 GB 6G SAS 10K SFF (2.5-inch) Dual Port Enterprise Hard Drive
Others Raid Controller : PERC S11
Warranty 1 Year

Contact Rental India
Chackravarthy (8754542653) Anushree (8971423090)
Visit Us: https://shop.rental-india.com/product/dell-poweredge-r220-server-available-on-rental-sale/
Mail Us: enquiry@rental-india.com Mandaveli, Chennai-28.