Refrigerator Repair1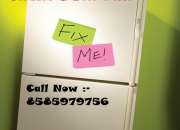 Data of ad
Published
19 of April

/ 12:13hs
Advertiser:
Faridabadrepairs, Repairs
Details of ads
Gurgaonrepairs is one of the trustworthy Refrigerator repair service Center in Gurgaon with more than 10 years of doing yeoman services in this Delhi NCR area. Our clients have given their complete faith in our quality and guaranteed services calling us again and again to sort their home appliances with exceptional results. We hope to bring the right skills and expertise to further boost their electrical appliance age to give them more comfort inside their homes. We are available 24x7 for any queries and information regarding your Refrigerator repairs. Call
us now to book the right time for your Fridge repair in Gurgaon

OUR UNIQUE APPROACH:-
SERVICE AREA :- We offer an express Refrigerator Repair service throuhout the Gurgaon areas of Delhi NCR.

PROFESSIONALS :- All of our expert technician are fully trained and qualified to give you the best repair service.

FREE CONSULTATION :- We offer FREE quotes and consultation over the phone with no obligation for you to proceed.

FAMOUS BRANDS :- We are qualified accredited to repair all major appliance brands like Samsung, LG, Whirlpool, Videocon, Hitachi, Sharp, Panasonic, GE, Seimens & White Westing-House, Daikin, Onida, Mitshubishi, Lloyed etc.