samarth computer education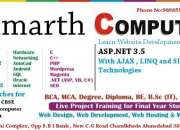 Data of ad
Published
06 of May

/ 12:44hs
Advertiser:
Rakesh Kumar R Raval, Raval
Details of ads
#SamarthComputerEducation in #Chandkheda offers
#short-termcourses and #certificatecourses.
Inclusive of comprehensive learning, the
#long-termprogrammes feature subjects such as
#webdevelopment, #financialaccountancy, #computer
application and #programming, #information
technology, #multimedia and #web-designing.
Some of the short-term courses cover topics
like #Windows XP, 7, 8, 10, #Vista, #MS Office,
#DTP (Desk Top Publishing), #Web Designing,
#Multimedia, #Tally ERP 9, #C, #C++ , and #Visual
Basic. Walk into this centre all through the
week between 08:30 - 9:30pm.