Retail Management Software for Departmental Stores Delhi NCR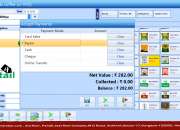 Data of ad
Published
17 of December

/ 19:44hs
Details of ads
FUSION RETAIL SOFTWARE
Point of Sale (Touch & Scan) - Touch and Scan POS are cashier friendly interfaces that makes faster checkout and cash control, yet records accurate and legible information at your point of sale.

Inventory Management - Fusion Retail helps you to keep right inventory by putting a check on slow-moving and non-moving stock. It results in speedy inventory turn that increase profits and smoothen other retail processes.

Financial Management - Financial Management is an integrated financial accounting system. This helps you to keep financial records efficiently. This eliminates errors and delay resulting from duplicity of work.

Customer Relationship - CRM records the buying history of each customer. It also generates points based on their purchases and creates different privilege club membership. When used in multi store environment, Fusion retail keeps track and synchronize the customer points and other information across the chain in near real time.

CRM automatically sends SMS on birthday and anniversary. It also sends SMS for promotion, new arrival, store launch and festive seasons greeting. The constant and precise communication helps bringing the customer back to the store.

Scheme & Promotions - Fusion Retail offers a bouquet of scheme and promotion fairly customizable to suite your business needs. It is set on.

Chain Store Management - Fusion Retail Multi Location brings you the enterprise wide connectivity across all of your stores, warehouse and back office.

Mobile and Web based Reporting - Access reports from anywhere. Choose from various platforms. Use your own server and database.