BEST AND EFFECTIVE ELLIPTICAL TRAINER FITNESS MACHINE IN 2020!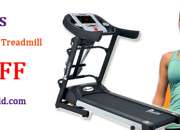 Data of ad
Published
04 of June

/ 10:14hs
Details of ads
Another word for the elliptical trainer is a cross-trainer or X-trainer. This is one of the effective cardio fitness gym equipment. The biggest benefit of using this machine is that it works without causing extra pressure on joints. If you want to make your home as a home gym, then this fitness trainer is best for you people.

There are many advantages of fitness gym elliptical trainer machine are:
1. It boosts and increases your stamina as well as body strength.
2. It helps to burn the loss of calories and extra body fats.
3.These trains used as not only the upper body but also the lower body workout. So, you will get a full-body workout.
4. It protects from any leg injury because it puts less pressure on your joints.
5. This machine is very simple and easy to use. It targes only some of the leg muscles.
6. It helps to maintain as well as improve your body balance.
7. You can learn quickly the use of trainers enjoying different options on that.
8. It also makes rid and strengthens your leg muscles.

Here is the list of top Elliptical Trainer fitness gym equipment with the great different brands...

Cosco Elliptical Trainer TRIM 290
Product Code: TRIM 290
Brand: Cosco
Net Weight:30 Kgs.
Max. User Weight:100 Kgs.
Assembly (LxWxH) :1300 x 600 x 1575 mm
Flywheel:8 Kgs.


E95 SOLE Elliptical Trainer
Product Code: E95 SOLE
Brand: SOLE
PRODUCT FEATURES
It has a great feature include a health club model that makes it easy to use. The E95 uses vibrant LCD readouts. Cooling fan and water bottle holder are available. It has built-in speakers that allow you to easily listen to music while using an elliptical trainer. Incline and resistance control is added into handles. Custom molded hand grips are used for comfortable use. To monitor your heart rate, stationary handles bars with built-in pulse sensors are available.


0Stex S25E Elliptical Trainer
Product Code: 0Stex S25E
Brand: Stex
PRODUCT FEATURES
It includes alphanumeric high clarity white LED message center display console. iPod on the S25E allows music recharging as well as selection. It provides not only to install any personalized program or save any workout program as well as charge USB compatible electronic devices. Food pedals are available that allows the user to adjust or fix their foot position. The space between the pedals that makes minimal pressure to the lower back. It also involves the digital heart rate system.


Bowflex M5 Max Trainer
Product Code: M 5
Brand: Bowflex
PRODUCT FEATURES
16 resistance levels
Backlit display
Syncs with free Max TrainerApp, available for apple iOSandAndroiddevices.
Target-zone and burn-rate indicators
Contact heart-rate monitor


Schwinn SW E430i Elliptical Trainer
Product Code: 430
Brand: Schwinn
PRODUCT FEATURES
USB charging port
2 user capability for multiple user set-up
Large footplates allow you to place your feet in a position that's comfortable for you
3 LED tracking lights
Ergonomically placed moving and static handlebars
3-speed fan, oversized center-mounted water bottle holder is available.
Product Assembled Dimensions: 70.1" X 28.2" X 63.2


FS 3.5 Cardio Fitness Elliptical Cross Trainer
Product Code: FS 3.5
Brand: XTERRA
PRODUCT FEATURES
If you need to start the journey towards your health and fitness goals, then you must bring XTERRA FS3.5 elliptical at your home.