Event Management Services, Event Organisers, Event Planners,Brand Promotions, Activations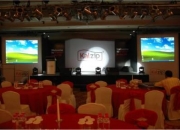 Data of ad
Published
11 of September

/ 07:49hs
Details of ads
BLACK RIDERS
Friday, 11th September 2009. New Delhi. ( INDIA )

We at â?? BLACK RIDERS â? a division of Black Riders Advertising Pvt. Ltd. establishing itself as an Advertising, Marketing, Event Management, Brand Promotions, Exhibitions & Brand Management Company, dedicated to offering intelligent concepts & innovative ideas for ATL / BTL needs Pan India.


Services At Glance:-

Event Management, Event Planning & Conceptualizing, Managing Conferences, Seminars, Dealers Meet, Sales Meet, Product Launches, Annual Award Nights, Theme Parties, Corporate Events, Fashion Shows, Musical Concerts, Live Shows, Brand Promotions, Road Shows, Mall Promotions, Market Activations, Movie Screenings, Advertising, Mobile Hoarding Vans, Road Show Vans, Outdoor Communication, Exhibitions, Stall Designing & Fabrication, Octonorm Stalls PAN INDIA.


For details kindly log on to www.blackriders.co.in or call 09910014104.