UBER is a natural sweetener and a sugar free product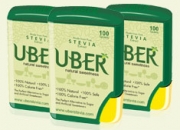 Data of ad
Published
21 of May

/ 05:01hs
Details of ads
UBER is a natural sugar substitute made from Stevia pureextract derived from the leaves of 'Stevia Rebaudiana Plant'. Stevia is 300 times sweeter than sugar that has globally emerged as the healthiest way to enjoy sweets and beverages.

The all natural UBER is a real boon for diabetics and the health conscious. It not just aids in weight management, but also increases energy levels and mental activity. Unlike artificial sweeteners, UBER reduces craving for sweets, fatty foods, tobacco and alcohol.

Stable up to a temperature of 240° C, UBER is also heatable and cookable and an ideal option even for use during preparation of your favourite sweets. So be it Gajar ka Halwa or Gulab Jamun?tempting ice-cream shakes or mouth-watering cakes?coffee, cookies, lemonades?or any other sweet delights.. now you have the freedom to relish the sweetness of nature without any fear. Just add UBER to your life and stay healthy naturally.